To Marquet to draw a Fat Pig
CLAUDE MARQUET
A SKETCH OF A GREAT CARTOONIST'S CAREER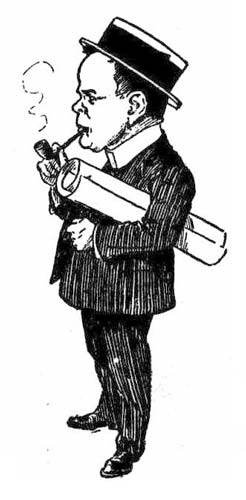 Gone from this earth for evermore Claude Marquet, The Worker's official cartoonist, and undeniably one of the best black-and-white artists in the world. He met his fate last Saturday night, when, with a comrade, Harry Palmer, he essayed, in a little dinghy, in a southerly buster, and a ravenous ocean, the sailing path between Kurnell and Botany. Both were excellent sailors, and Claude was almost a superhuman swimmer. Yet, despite these appropriate attributes, they became the victims of Davy Jones.
I had met Harry Palmer casually, but Claude and myself were for many years past on the most intimate of terms. Once he and I and a few more of us started a comic newspaper in Sydney. My conscience now pricks me to the extent of having to confess that Claude did most of the work, while all the rest of us were managers or editors. Ask "Tom" Mutch, the present Minister for Education. Also ask Hector Lamond, who is politically against us now, but was one of us then. Claude Marquet first saw the light of day in Moonta, South Australia, in 1869. Later he gravitated to McTaplin's Grammar School at Wallaroo, another mining centre, where he learnt the art of rowing and sailing (which brought about his altogether too-early death) and the rudiments of the cartoonist's art, which established his everlasting fame. Marquet started at Wallaroo as a compositor, but, his facile brain thought not so much in terms of stereotyped hieroglyphics as in terms of what the unstereotyped pen, dipped in Indian ink or Chinese white, is capable of achieving. At any rate, he soon became chief cartoonist on Adelaide "Quiz," received prominent recognition from the "Bulletin," and eventually was financially commandeered as one of the leading cartoonists on Melbourne "Punch."

Later on, he was appointed as the staff cartoonist of The Worker (in which his first cartoon appeared on October 25, 1906). And from that day he never once looked back. Born and bred amidst the tyranny and travail of capitalistically controlled industrial conditions, he learnt to know what the wage-slaves were compelled to endure. And his splendid soul shrieked out in the language of revolt. But he wrote his revolt in the form of strong and original black lines that converted when they didn't convince; that convinced when they didn't convert. Anyhow, the result was much the same. I was a very close personal friend of the prematurely dead cartoonist. Nobody who knew him could help being so. Six years ago he, with his own hands and his own skill, built a fine cottage facing the beach at Kurnell. I will defy, as an old-time carpenter myself, any man, in the circumstances, to have built it better. He harmonised Art with Practicability, Utility, and, within his much-drawn-upon means, a modicum of comfort. While he was drawing the inimitable Worker cartoons his devoted wife, whom he married at Wallaroo in '91, looked after the fowls and the ducks, and watered the pumpkins and the melons till they grew to aldermanic size. Marquet's home was a rendezvous for his friends — and his friends were innumerable. He could provide you with as much fishing or shooting as you desired — and more; for he was both a son of the sea and the land. His and his wife's hospitality was boundless.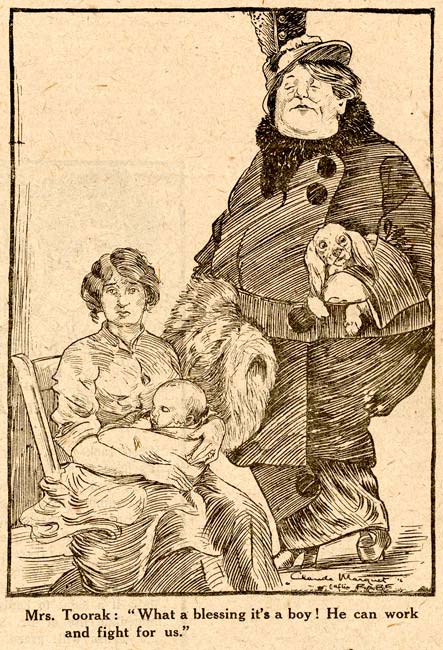 No visitor — no matter what his political or religious opinions were — was in the slightest way begrudged the freest of access to Marquet's home. Everybody was welcome — and more than welcome — without any regard to color, caste, or creed. We shared week-ends together. More than once we have dared death in the treacherous seas of Botany Bay, fishing, going Somewhere, and just sailing Anywhere in the sheer exultation of vigorous life. But I always told Claude that Botany Bay would be his murderer. Confident of his great physical strength and boating knowledge, he took tremendous risks. But, when all is said and done, what is the strength of a man against the strength and treachery of the sea? Marquet needs no monument. His name is a household word in Australia. His work was a delight and an inspiration to hundreds of thousands of workers, and as for the workers' enemies — well, "e'en the ranks of Tuscany could scarce forbear to cheer." On behalf of the Editor and his staff; on behalf of the Manager and his staff; on behalf of the mechanical staff; and on behalf of hundreds of thousands of the dead artist's admirers, a solemn message of real sympathy is here convened to Mrs. Marquet, who at least has the consolation of knowing that her loss is Australia's loss. R.J.C.
Australian Worker (Sydney, NSW : 1913 – 1950), Thursday 22 April 1920, page 10

The Late Claude Marquet
RANKING among the most brilliant cartoonists of his day, Claude Marquet, for many years associated with 'The Australian Worker,' was a Democrat and a Laborite to his in-most core in politics, and in private life a man of the kindliest sentiments.
His pictorial treatment of 'The Blood Vote' poem, during the AntiConscription campaign of 1916, and his numerous other cartoons at that period, and in the corresponding crisis of 1917, will always form part of the history of that time, and of the great victory for freedom the Australian people won. When Claude Marquet was accidentally drowned in Botany Bay, some fifteen years ago, the Labor Movement lost a powerful exponent and all who were favored with his friendship one of the best and most loyal of mates.
Australian Worker (Sydney, NSW : 1913 – 1950), Wednesday 28 October 1936, page 11
Inscribed: Written by W.R. Winspear and drawn by Claude Marquet, St Andrews Place, Sydney
When the above poem was received by the Editor of 'The Worker' he at once realised the valuable use that could be made of it and called in Claude Marquet to illustrate the text. The result of the collaboration of the artist with the poet was remarkable. Had the verses been printed in ordinary type, in the usual way, they might have passed with little notice among the enormous mass of matter that was then being poured out. Presented in the above form it became probably the most effective piece of propaganda used in the 1916 campaign.
Australian Worker (Sydney, NSW : 1913 – 1950), Wednesday 28 October 1936, page 16
However, the Australian Dictionary of biography reveals that William Robert Winspear did not actually write the poem. Winspear's entry notes that Winspear is 'best known for a poem he did not write: 'The Blood Vote', which became famous as anti-conscription propaganda. It was written by E. J. Dempsey, a leader-writer on the pro-conscription Evening News, who asked Winspear to sign the poem.'
[Note: I wondered why a writer with a pro-conscription newspaper writing iconic anti-conscription verse and presumably then leaking it to the other side? I can only guess that Dempsey's private view on this differed radically to the newspaper which employed him.]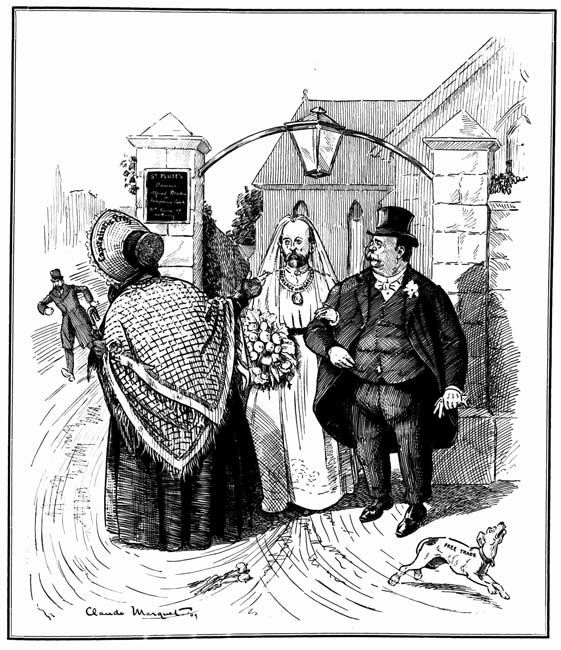 Foster-Mother: "Brace up, Josephine, there's a desperate-looking man approaching, and, if my old eyes don't deceive me, it's Alfred coming to claim you at last!"
(Pathetic to note the way in which every movement of Deakin's is construed by the Capitalistic Press to be a sure sign that he is yielding to their pleadings to become a declared member of the Anti-Sosh family by uniting with Cook).